The Sanctuary for Senior Dogs |
home


Forever Fosters: Sponsor a Senior Dog

Can't adopt or foster a senior dog? You can still help. All of the dogs featured below are Forever Fosters at The Sanctuary for Senior Dogs. They are not currently available for adoption for a variety of reasons; some have constant medical needs; some are in the final stages of illness; some have special emotional needs; J.J. serves the Sanctuary as therapy dogs and official spokesdog.
You can sponsor one of our Forever Fosters (or an
adoptable dog
waiting for a forever home) through our
Forever Fosters
:
Sponsor a Sanctuary Senior
program. Your contribution provides food and ongoing medical care for our Sanctuary Seniors. Without sponsors like you, the Sanctuary could not continue its mission of protecting and caring for old dogs that cannot be adopted. In return for your support, you will receive a photo of the dog you have chosen to sponsor. You will also receive periodic updates from your dog sometimes signed with an authentic paw print. If possible, we will arrange for a visit with the dog you sponsor if you are local to Cleveland. Please be sure to tell us which dog you would like to sponsor. In 2012, we launched an e-newsletter just for sponsors of our forever fosters. Be sure to look for it about twice a year.
You may send a check and indicate which dog you would like to sponsor, or you may
contact the Sanctuary
for a sponsorship form; you can also set up your sponsorship through the links to PayPal at the bottom or the left side of this page. The dog you sponsor will be grateful for your help.

SANCTUARY FOREVER FOSTERS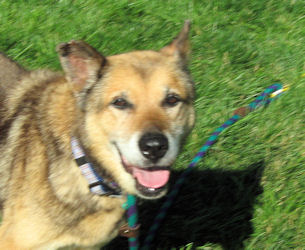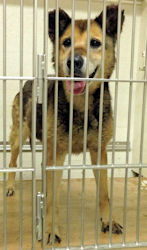 Hattie
's journey to the Sanctuary has not been an easy one. At least 10 years old, she came to us emaciated, heartworm positive, with fly-bitten ears suggesting that she had been kept outside, and a mammary tumor. When first asked about Hattie, we did not have room for her, but thanks to Friends of the City of Cleveland Kennel, she went into boarding until we could free up a spot for her. She has been groomed and will be treated for heartworm and then spayed when she has gained enough weight to be successfully treated. She is slowly learning what it means to be an indoor dog and receive regular meals, good care, and lots of love. Hattie is a sweet-natured dog that loves cats and gets along with other dogs as long as they don't mind her enthusiastic attention. If you would like to contribute to Hattie's extensive medical needs or apply to adopt her when she is ready to go, please
contact the Sanctuary
. Hattie will repay you with endless gratitude and love.
Update: Hattie is now part of our Forever Foster program after being diagnosed with an aggressive mast cell tumor. We were unable to complete her heartworm treatment since she developed recurring vestibular problems. but she will be safe and loved for the rest of her life in a Sanctuary foster home.

Giuseppe,
fondly called Grandpa Joe at the City of Cleveland Kennel, quickly became a favorite of the volunteers there. Covered in painful mats and pitifully thin, Giuseppe seemed to have given up on life. With the support of Friends of the City of Cleveland Kennel, Giuseppe was offered boarding until the Sanctuary could open up space in a foster home. The Sanctuary made sure that his medical needs were met so that he could get a head start on his road to recovering his health and his comfort. A 10-12 year-old Shepherd mix, he is an easy dog who loves attention and playing with other gentle, friendly dogs. Giuseppe is slowly gaining weight and confidence and would love to spend his golden years in a home where he will know unconditional love for the rest of his days.
Update: Giuseppe has become a Forever Foster. He will live out his life in his loving foster home. As his back legs worsened and his health declined, we decided that making Giuseppe adjust to a new home at this stage in his life would not be fair. to him He needs regular care for his health needs and a special diet to control his allergies and skin problems. Giuseppe will continue to have everything he needs, including a whole lot of love!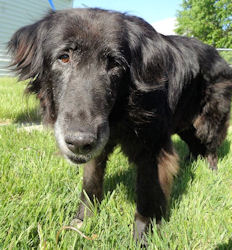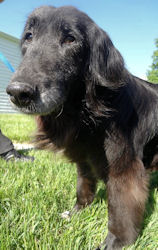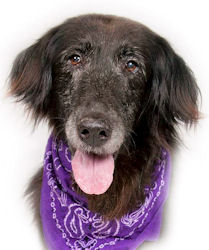 Delilah,
10+-year-old Lab/Collie mix, is a good-natured old gal who came to us from animal control. Emaciated and frightened, she has responded to the love and care in her foster home. Delilah has gained over 10 pounds and is on her way to good health. She absolutely LOVES other dogs, small animals (including ferrets), and all people. She is still being treated medically, so look for an update soon. For more information on Delilah, please
contact the Sanctuary.
Update
: Delilah just completed her first training class at
Fortunate Fido
to evaluate her for possible therapy dog work. She did well, and we will continue her training and testing. We have every reason to believe that she will succeed along with FayFay in becoming the Sanctuary's next therapy dog.

FayFay
, a gorgeous, small Black Lab mix,
was the much-loved elder pet of a family fallen on very hard times who could no longer care for her. She came to the Sanctuary with some bad spinal arthritis and in the midst of a false pregnancy. At 11-years-young, FayFay is full of energy and loves to play, especially in the snow. Although she runs slower than she used to, she enjoys a good romp around the yard, and she absolutely loves to chase those evil squirrel invaders from her yard. She gets along well with friendly dogs and will make a wonderful addition to the right family.
Update: FayFay has begun training in order to be evaluated to serve the Sanctuary as a therapy dog. We will update frequently on her progress.
Update
: FayFay has just completed her first training class at
Fortunate Fido
, and she did well. She is eager to learn and very treat motivated. We have every reason to believe that she will succeed along with Delilah in becoming the Sanctuary's next therapy dog. Thanks to
Portraits by Martha
for the stunning protrait of FayFay

Lindy,
a 10-year-old mixed breed dog, came to the Sanctuary from a dog pound in neighboring county. Lindy gets along with dogs, cats, puppies, and everyone she meets. She has some arthritis that makes steps difficult for her (unless there is something she in interested in at the top of the steps!), and she is currently being treated for Cushing's disease. She has responded very positively to the medication, and her symptoms are under control.
Update:
Lindy has become part of our Forever Foster program where she will stay in her loving foster home and receive excellent medical care and all the love she could ever ask for. She shares her home with two other senior dogs and two people who are devoted to her. Thanks to
Portraits by Martha
for the lovely head shot of Lindy.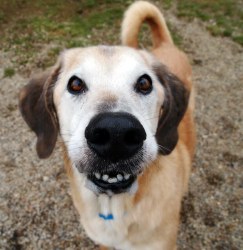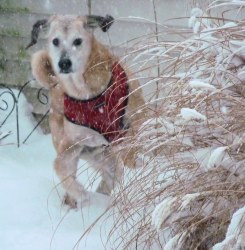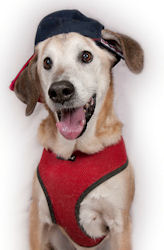 Nolan
, a happy-go-lucky fellow with a distinguished gray muzzle, Nolan, at 10 years old, has a smile for everyone he meets. He would love nothing better than to spend his time with you, going for leisurely walks and cuddling on your couch. He loves car rides, running through the snow, and lots if attention, too. His wonderful personality and crooked smile will keep you amused and laughing. Nolan is recovering from the serious neck injury he suffered in June, but he is expected to make a full recovery.
Update: Because of Nolan's even temperament and his past training, he is being evaluated as a Sanctuary therapy dog. He began his formal training in November. Look for news on his progress.
Update:
Nolan's therapy dog training did not go as well as we would have liked. He becomes stressed on a leash and in new situations. He was adopted but that did not go well either. He became so stressed that he needed medical attention. So he will remain in his Forever Foster home for life and continue to be the Sanctuary's unofficial spokesdog, entertaining us with his antics and wonderful photos. Thanks to
Portraits by Martha
for Nolan's baseball cap photo.

JJ
, a 9-year-old Yellow Lab mix, is a sweetheart of a dog. Found wandering by a good Samaritan, JJ was taken to an area shelter where staff quickly discovered that she is entirely blind. But she does not let that stop her. She is learning to respond to voice commands and seems to be a quick study. She enjoys a good belly rub and sprawls on her back to make sure you can hit all the right spots. Friendly with other dogs, JJ is easy going and loves to play.
Update:
JJ has passed her therapy dog test and is now our therapy dog working with a children's reading program. Congratulations, JJ and Jolene. And thank you to
Gold Star Dog Training
in Medina, Ohio, specializing in handicapped pets, who worked closely with JJ. Thanks also to Linda Farace of
Crazy Dog Studio
for the excellent shots of JJ and Jolene. She will remain with the Sanctuary and share her irrepressible joy with others. Your support helps with the cost of JJ's veterinary care.

Bram
, an 8-year-old Poodle/Lhasa mix, arrived at animal control absolutely covered in fleas, thin, and completely miserable. He received a clean bill of health from our veterinarian and was successfully neutered and had a much-needed dental. But shortly thereafter, he was diagnosed with Immune-Mediated Hemolytic Anemia. He will receive lifelong treatment and care in his permanent foster home. The picture on the left was taken while he was still at animal control. The picture on the right on his first night in his new Forever Foster home.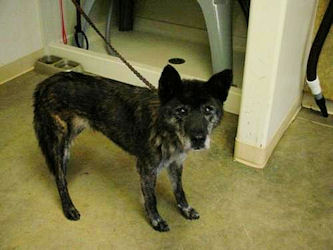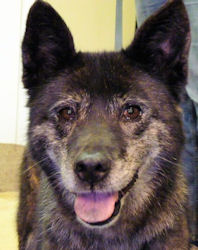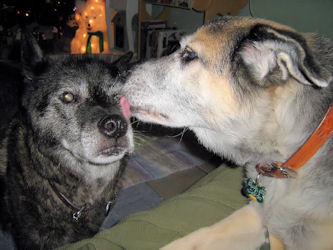 Nessie
, a 10 year-old small Shepherd mix, weighs a mere 30 pounds but could stand to gain a few. She came to us from a rural Ohio pound with a nasty case of kennel cough/pneumonia. She has recovered and is in a Sanctuary foster home where she is friendly and relaxed. A victim of obvious neglect, Nessie has low vision and may suffer from past head trauma. She would love to have a home of her own where she will get the unconditional love that she deserves. She has gained weight, health, and confidence. She recently attended a local animal fair and was a real crowd pleaser. The picture on the left was taken in the shelter; the one on the right recently at an adoption event. Nessie has come a long way in a short time.
Update: Nessie has been diagnosed with kidney disease, and, since she takes some time to adjust to new surroundings, she will stay in her foster home where she is loved for life. She is shown at far left in the pound and at far right getting some attention from her foster brother Harry.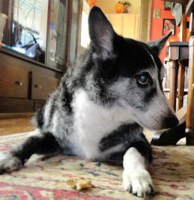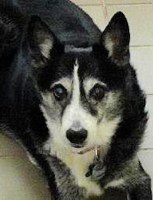 Neeko,
15-year-old Border Collie/Cattle Dog mix, is a real sweetheart of a dog who was surrendered to an area shelter because of his owner's failing health. He has mild liver disease, which is asymptomatic and being treated with milk thistle; he also has a touch of arthritis, but that does not keep him from playing with his pack mate in his foster home. Neeko has lots of energy and bonds quickly with people and other dogs. Your support helps with the cost of Neeko's medicine, supplements, and veterinary care.
Update: Neeko has just moved to a new Forever Foster home when his original foster moved out of state and could not take Neeko with her. He adjusted in record time and was last seen with Loki the cat who was busily licking Neeko's ear. He is enjoying several walks a day and all the love he could ever want. Because of Neeko's age and his elevated liver enzymes, he will stay with the Sanctuary for life.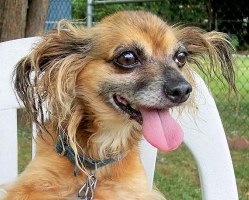 Jewel
, an 13-year-old long-haired Chihuahua, came to the Sanctuary when she was unclaimed in animal control, apparently frightened by July 4th neighborhood fireworks. She is a timid dog and shows evidence of fear, but she does warm up to people if she is approached gently and with love. Jewel would clearly prefer to be the only dog, and she will repay your love and care tenfold. Because she has been through so much and because she is still very afraid of new people and new situations, Jewel will remain in her foster home for life.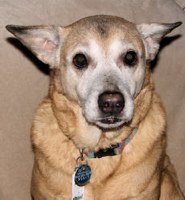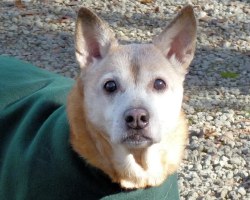 Hazel
is a very special girl who came to us with a sad story. She and 85 other dogs were removed from the home of a hoarder in Mansfield, Ohio, in June. The conditions were deplorable, and, sadly, only 22 of the dogs survived. Hazel, whom the shelter estimated at 14 years old, was pregnant and gave birth to four puppies at the shelter. Very shy and poorly socialized, Hazel was not likely to be adopted out, so she came to the Sanctuary where she has been slowly learning to trust people and to interact with them. Our vet Dr. Bob at Gateway Animal Clinic believes that Hazel's age was closer to 8 than the 14 suggested by the shelter. That is good news for Hazel. We hope she has a long time left to enjoy life as a loved family member rather than just a number. Because adjusting to new experiences is difficult for Hazel, she will remain in her foster home where she enjoys patrolling the yard with the other dogs and sharing love and treats with her foster caregiver.
Update: Hazel has been with the Sanctuary for over four years now. She is 11 or 12 years old and happy as long as she has her very own chair. She shares a foster home with Nolan and FayFay, both of whom are her very best friends. She still loves chasing squirrels and stray cats out of her yard; she sings and dances for her dinner and generally enjoys her life. Your support helps meet Hazel's medical needs, which include supplementation and medication for spinal arthritis and daily medication for her allergies and thyroid condition.

Clyde
, a 13-year-old Lab mix, was found wandering the streets of Cleveland several years ago. Even though Clyde was pitifully thin and completely blind, he was confident, loving, and full of good humor from the first day we met him. Letting his nose be his guide, he is always ready to snatch an unattended piece of cheese or bread from a table or counter, and he is always ready for a walk or an adventure. He is friendly with most people, but he can be frightened and a bit defensive if people do not make their presence known to him before trying to interact with him. He bonds quickly and permanently, having made many new friends in his time with the Sanctuary. Because he reacted poorly in two adoptive homes, Clyde returned to his foster home where he feels secure and where he will stay, enjoying the company of his foster family and their dogs for life. Clyde has recently developed dementia which is being treated with medication. Your support helps to provide ongoing medical care for Clyde.
Your monthly sponsorship helps us care for those senior dogs who cannot be adopted because of medical or emotional conditions. We provide foster homes, medical care, food, and lots of love with the help of sponsors like you. Thank you for considering a senior dog. Our permanent Sanctuary dogs send out a four-paw thank you as well.
$5 a month provides heartworm protection for your dog

$10 a month contributes to feeding your dog
$15 a month contributes to the medical care for your dog
$20 a month contributes to the total care of your dog
$25 a month contributes to the total care of your dog.
$50 a month contributes to the total care of your dog.
Sanctuary dogs past and present enjoy the good life in their foster homes
thanks to our sponsors and supporters!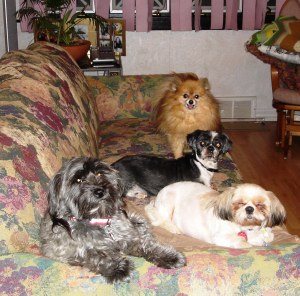 Left: Gucci with his friends Riley and Arwin (adopted from the Sanctuary) and Bocci.
Right: Meghan, Georgia, and Henry take time out for a nap.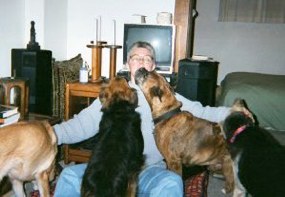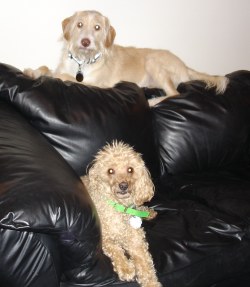 Left: Angel, Guido, Meghan, and Rose line up for scratches and kisses.
Right: Brady plays couch potato under the watchful eye of young Toby Reis, Poodle/Terrier mix, one of Missy's puppies (Missy the Poodle came to the Sanctuary in 2003 from West Virginia as an 11 y/o Poodle in need, but she was, we discovered after she arrived, a mere 4 years old and VERY pregnant).
Copyright 2010-2013
No part of this web site, including photographs, may be reproduced without written permission