The Sanctuary for Senior Dogs |
home


Please Adopt Us!

The dogs featured on this page are available for adoption from The Sanctuary for Senior Dogs. All have been altered, provided with necessary medical care, and lived in a foster home prior to adoption. Our dogs are indoor dogs, looking for a home in which they will be indoor, valued family members. Please see the Adoption Policies and Procedures to the left of this page.

Please do not post our adoptable dogs without our written permission. The Sanctuary for Senior Dogs does not euthanize our dogs for space. A senior dog in our program has a place for life.

Dogs featured on this page are not generally in need of foster caregivers unless specified. But we welcome your application to foster a deserving senior dog. Without our fosters, we cannot save abandoned old dogs.

So please consider fostering or adopting a senior dog. You will not only save a life but you will also gain a devoted friend.
Come meet your new best friend on November 26, 2017, from 2-4 PM
New to the Sanctuary
These dogs have arrived recently or are still under evaluation and will be updated periodically. They will be moved to the appropriate section (adoption or forever foster) when their vet visits and behavioral evaluations are complete. For more information on any of our new dogs, please
contact the Sanctuary.
Chelsea, a senior Poodle, came to us from Cleveland Animal Care and Control when she was picked up as a stray and no one claimed her. She is full of spunk and energy and will entrtain you for hours with her antics. She recently had a much needed dental and is being evaluated for a lump on her head. She will be ready for adoption when her medical tretament is compete.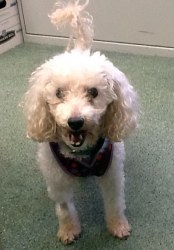 Wexford, a big hunk of a Cane Corso mix who loves everyone he meets--well, except apparently for his vet. From Cleveland Animal care and Control, he is 6-7 years old and currently bring treated for heartworm disease. He will be available for adoption when his treatment is complete.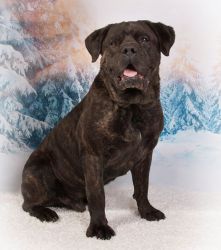 Emily, a senior Chihuahua from Cleveland Animal Care & Control with some very big ears. She has developed some health issues that we are aggressively treating and will be available for adoption when her health has resolved.

Morgan, a 13-year-old Yellow Lab, came to us recently in need of a safe place to stay after being attacked by the other dogs in her home. She will likely become part of our Forever Foster program since she is emotionally fragile and in need of stability.

Sir Jonathon (FKA Poodle Man), is about 12 years old from Cleveland Animal Care & Control and had his first vet check up which went well, but he has since developed an issue with his back that is currently being observed and treated with medication. He has been groomed and have a new picture soon. So stay tuned for updates.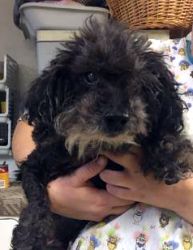 Ava, a beautiful 11-year-old Pit Bull, came to us from Cleveland Animal Care & Control recently in sad shape. She has an old back injury that affects the way she walks, making her unsteady on her paws. Obviously used for breeding and then discarded, Ava has some medical problems that we are addressing. She will have a second check up in a couple of weeks and will be available for adoption when all of her medical needs have been met. She has been friendly with the other dogs in her foster home and with everyone she meets.

Petula, 13- to 14-year-old Poodle mix, came to us from Cleveland Animal Care & Control in September horribly matted and in very poor health. She is recovering and may be available for adoption if her health continues to improve. The photo on the left was taken when she arrived at Animal Control. In the photo on the right, she has been shaved down and the mats removed, but she is not yet healthy enough to be groomed. Look for updated pictures soon now that she has been groomed and had a photo session with Portraits by Martha.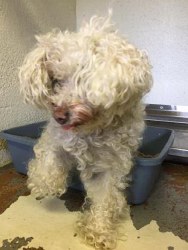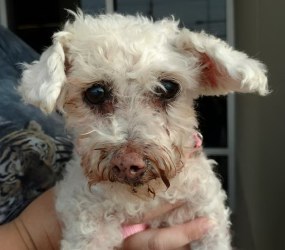 Raven, a 13-year old Yorkie mix, also came to us from Cleveland Animal Care & Control in September. She was quite thin with significant hair loss. In fact, her back was nearly bald, as you can see in the picture on the left. After several weeks of a good diet and medicated baths, she is starting to look and feel much better. Raven still has a ways to go, but we are confident that she will be healthy with a beautiful coat soon. In the photo on the right, she has begun to settle into her foster home and enjoy her meals. We will update with pictures and information as she continues to improve.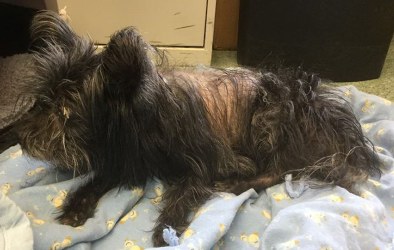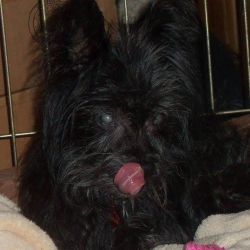 Rambler Ann, a 9-year-old Border Collie/Pit Bull mix, came to us in July from Cleveland Animal Care & Control. She is easy-going and friendly, a joy to be around. She has been spayed and will be ready for her very own home as soon as she completes her training.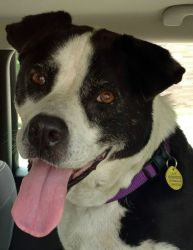 Professor Ralphie is not yet ready for adoption. He has shown some behavioral issues as he adjusts to life in a loving home. A force-free trainer is working closely with him. Stay tuned for updates on Professor Ralphie.
Update: Professor Ralphie has been with us for nearly a year now. He has improved somewhat in his behavior to others, but he still has a long way to go. He spent a couple of weeks in a local boarding facility when his foster caregivers had a death in the family, and the staff reported that he was friendly and played well in some carefully selected play groups. That is progress, and we hope Ralphie will continue to make strides in adapting to his new life. We will continue to update on his progress.

All of our senior dogs require medical treatment, sometimes extensive. If you would like to help us with the high cost of rescuing senior dogs, please consider making a donation to support our work. You can mail your donation to PO Box 609054, Cleveland, Ohio 44109, or you can click the link below to donate through PayPal. All donations are tax deductible and will be acknowledged. Thank you for caring about abandoned old dogs. Old Dogs, Great Friends!
PLEASE ADOPT US!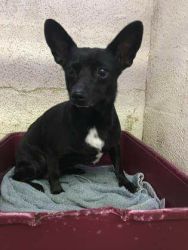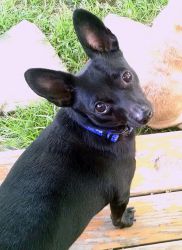 Jett, a "young senior" Chihuahua/Dachshund mix at 6 to 7 years old, was thought to be a very frightened older dog when we took her from Cleveland Animal Care & Control. But it turns out that she is actually younger than anyone thought, quite healthy, and not afraid once she was out of the kennel and secure in her foster home. She is beautiful with the biggest ears we have seen in a long time. Jett loves to play with the other dogs in her foster home, so she would like nothing better than a home of her very own with a friendly dog or two as companions.
If you are looking for a younger senior dog to join your household, please
contact the Sanctuary
for more information on Jett.

Simon, a 10-year-old Beagle mix, arrived at the Sanctuary from Cleveland Animal Care & Control over a week ago. He seems healthy, if a little thin, with the exception of anemia, which had resolved when rechecked. He had a much needed dental and several benign lumps removed. Simon is one of the sweetest and most laid-back dogs we've had the pleasure of meeting. The Sanctuary was considering him as one of their working therapy dogs, but he gets car sick when going any distance, so traveling for therapy dog visits would not be good for him.

Little Vecchio, a 10-year-old Yorkie mix, came to us from Cleveland Animal Care & Control earlier this year. As you can see from his before and after pictures, he was severely neglected. After he was cleaned up, a handsome fellow emerged. Vecchio has had a much needed dental and has been neutered. He is very low vision and hearing, so he needs a special home with lots of patience and love and few stairs. Once he relaxes, he is a sweet and loving little dog who will quickly become your best friend. He is a lap dog and likes nothing better than to sit on your lap all day long.
Vecchio was adopted by a couple who loved him dearly, but unfortunately their resident dog did not share their love for Vecchio and he returned to the Sanctuary where he awaits that perfect home.

Alvin, an adorable 9-year-old Chihuahua mix, came to us from a shelter in NW Ohio when no one came for him. He had developed a bad case of kennel cough and was treated for intestinal parasites and giardia. He has some neurological issues that affect his gait, but that doesn't slow him down at all. Alvin has developed some mild kidney disease that is responding to a prescription diet, and his latest blood work shows no evidence of disease any longer. He is friendly to people and animals and will become your best friend quickly. He also likes respectful children. He is available to a loving home in NE Ohio.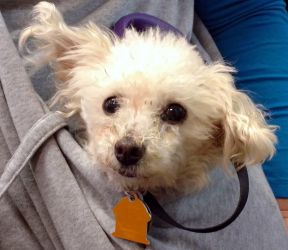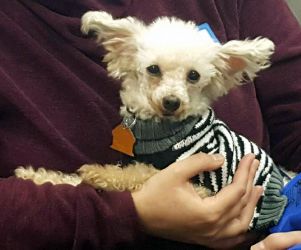 Blanche, a 12-year-old toy Poodle, is a sweet bundle of love. She has been successfully spayed and has had some mammary tumors removed. She is a real love and absolutely adorable, but she prefers to be the only dog in the home or top share her home with a smaller more submissive dog. She loves to be carried and to sit in your lap. The person lucky enough to adopt her will have a devoted friend.

In addition to the dogs offered for adoption, the Sanctuary cares for
Forever Foster
dogs in permanent Sanctuary homes. They are not available for adoption, but you can sponsor one of them if you would like to help us with the ongoing costs of our hospice and permanent foster dogs. Click here to go to the
Forever Fosters
page. If you are interested in fostering an adoptable dog or a permanent foster dog, please
contact the Sanctuary
. Your work will save the life of an abandoned old dog.
Click here to donate to the Sanctuary through the secure PayPal site.
To see more dogs available for adoption,
click here

© 2017
Please do not post our adoptable dogs on any other web site without our written permission.
No part of this web site, including photographs, may be reproduced without written permission