The Sanctuary for Senior Dogs |
home


Please Adopt Us!

The dogs featured on this page are available for adoption from The Sanctuary for Senior Dogs. All have been altered, provided with necessary medical care, and lived in a foster home prior to adoption. Our dogs are indoor dogs, looking for a home in which they will be indoor, valued family members.

Please do not post our adoptable dogs without our written permission. The Sanctuary for Senior Dogs does not euthanize our dogs for space. A senior dog in our program has a place for life.

Dogs featured on this page are not generally in need of foster caregivers unless specified. But we welcome your application to foster a deserving senior dog. Without our fosters, we cannot save abandoned old dogs.

So please consider fostering or adopting a senior dog. You will not only save a life but you will also gain a devoted friend. To access the foster or adopt application, click on the link below.
Come meet your new best friend on June 26, 2016, from 2-4 PM
Can't make Adoption Sunday? Call to schedule an appointment.
New to the Sanctuary
These dogs have arrived recently and will be updated periodically and moved to the adoption section when their vet visits are complete and they are available. For more information on any of our new dogs, please
contact the Sanctuary.
Professor Ralphie is not yet ready for adoption. He is being evaluated by a trainer. He should be ready for adoption soon.
All of our senior dogs require medical treatment, sometimes extensive. If you would like to help us with the high cost of rescuing senior dogs, please consider making a donation to support our work. You can mail your donation to PO Box 609054, Cleveland, Ohio 44109, or you can click the link below to donate through PayPal. All donations are tax deductible and will be acknowledged. Thank you for caring about abandoned old dogs. Old Dogs, Great Friends!
PLEASE ADOPT US!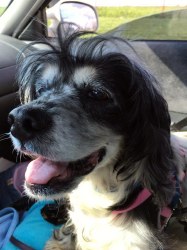 Cinders, a 10-year-old Cocker Spaniel, is one of the sweetest, gentlest dogs we have even met. Cinders came to us from Cleveland Animal Care & Control where she was found as a stray. Cinders is hard of hearing and blind, but she immediately bonded with her foster caregiver and the other friendly dogs in her foster home. Sje will make a devoted and valued companion to the person lucky enough to adopt her. Cinders has been spayed and is ready for a home of her very own.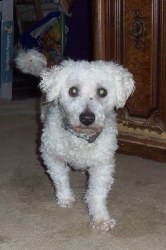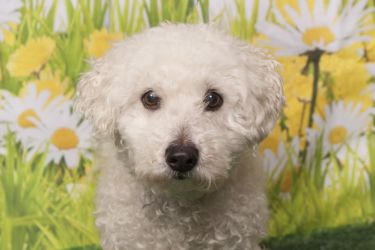 Lopez
, 8- to 10-year old Bichon mix, as sweet as he is adorable. He had a successful surgery to remove bladder stones and is feeling much better now. Lopez is an absolute joy of a dog, friendly, affectionate, and easy going, one of the all-around nicest dogs we have had in a while. For more information on Lopez, please
contact the Sanctuary.
Photo on the right courtesy of Portraits by Martha.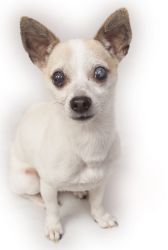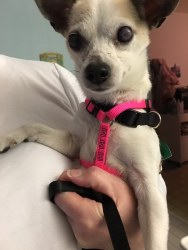 Squirt
, 4- to 5-year-old Chuhuahua mix thought to be older because of an eye problem that has left him blind. He has been neutered and is ready for his very own home. He is friendly to other dogs and everyone he meets. Squirt is a perfet gentleman. For more information on Squirt, please
contact the Sanctuary.
Photo on the left courtesy of Portraits by Martha.

Bizzy, a sweet Dachshund/Beagle mix, came to us recently from an Ohio dog pound where she found herself when her family was evicted and she was left to fend for herself on the cold streets. A kind neighbor found her and took her to the pound but not before she learned some of Bizzy's background. Bizzy is about 7-8 years old and has had at least 5 litters of pups.
When she arrived, she had a nasty yeast infection of her skin due to long untreated allergies. Once it had cleared, she was spayed and had some benign lumps and bumps removed. She is now ready to look for her very own home. Bizzy would very much prefer to be the only pet in the house although she might be able to learn to get along with another laid back dog, but she would not be a good fit for a home with cats. She is exceptionally friendly, energetic, and playful and will make a wonderful, comical, and devoted companion.
If you are interested in adopting Bizzy, being a foster-to-adopt home for her, or getting more information, please
contact the Sanctuary.
The photo on the right courtesy of Portraits by Martha.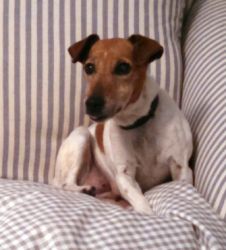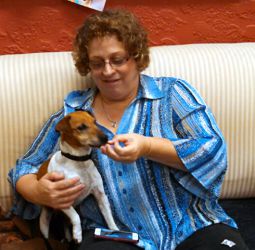 Lucy D, a 15-year-old Jack Russell Terrier, was surrendered to a NE Ohio shelter, and she arrived at the Sanctuary on November 6, 2015. Shortly afterward, she developed a stubborn case of kennel cough that quickly turned to pneumonia. We are happy to report that she responded to aggressive treatment and is recovering nicely. She also has a tumor on her upper jaw that our vet believes is benign, but it will be removed in mid-December when she is spayed and has a much-needed dental. Lucy D will be placed up for adoption if her health permits; if not, she will have a loving foster home with us for whatever time she has left. We will update Lucy next week when we know more about her health. Her shelter picture is on the left. The other two pictures were taken shortly after she arrived.
Update:
Our vet has estimated Lucy D's age at closer to 10 years old than 15 as the shelter stated. Good food and good care have helped her become a healthier, happier dog. She has lots of energy and loves to play with her toys. She has had her surgery and the good news is that her tumors both in her mouth and in the mammary chain were all benign. She has been spayed and is now officially looking for her very own home. For more information on Lucy D,
please contact the Sanctuary
.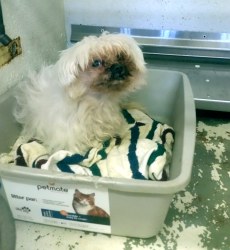 Gonzo, a senior, small mixed breed dog, possibly Maltese and Powderpuff Chinese Crested, arrived recently from Cleveland Animal Care & Control. His vet visit revealed severe, infected mats and an abscess, probably from a bite wound. Because his blood work was good and he is heart-worm negative, he was neutered right away so that his painful mats could be safely removed while he was under. His remaining tooth was also removed, but that does not stop him form eating soft food with gusto! He is a friendly, sweet fellow who loves to cuddle but also has some energy and likes to run around his fenced yard exploring. His shelter picture on the right and his picture after being groomed are strikingly different. he is much more comfortable and happy now.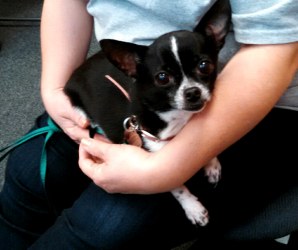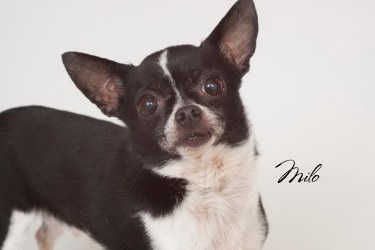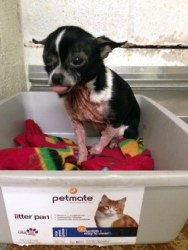 Milo, 8-year-old Chihuahua, from Cleveland Animal Care and Control, has been successfully treated for skin problems from long-neglected allergies. His health is much improved, and his fur has grown back. In fact, it is hard to recognize the dog that he once was in his pound picture on the right. He gets along well with other dogs unless he is busy being a lap dog; then he can be a little protective of his people. He is shown on the left in the arms of his foster caregiver, relaxed, happy, and handsome. He has come a long way from the frightened, sick little dog we brought it. he will make a womderful addition to the right home.
Photo in the center courtesy of Portraits by Martha.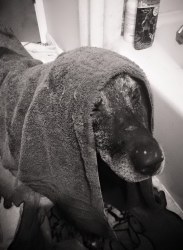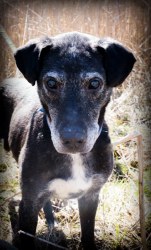 Murdock, a 10-year-old blind Lab from a hoarding case in Pike County, came to us in January of 2015 after living in an outside pen and being confiscated by the warden. Knowing his background, we assumed he would be timid, shut down, and poorly socialized. Boy, were we wrong! Murdock is loving, outgoing, and inquisitive. Everyone he meets is his friend: cats, dogs, people. His blindness does not slow him down at all as the occasional head thunks you hear when he runs into a barrier at full tilt make clear. He even enjoys his warm towel after a bath!
Murdock has celebrated one year in his foster home in February of 2016; he is healthy and happy and ready for his very own home where he can settle in and share his irrepressible joy with the world. For more information on Murdock, please
contact the Sanctuary
.
Photos of Murdock courtesy of Ruff, Pet Photography.
In addition to the dogs offered for adoption, the Sanctuary cares for
Forever Foster
dogs in permanent Sanctuary homes. They are not available for adoption, but you can sponsor one of them if you would like to help us with the ongoing costs of our hospice and permanent foster dogs. Click here to go to the
Forever Fosters
page. If you are interested in fostering an adoptable dog or a permanent foster dog, please
contact the Sanctuary
. Your work will save the life of an abandoned old dog.
Click here to donate to the Sanctuary through the secure PayPal site.
To see more dogs available for adoption,
click here

© 2016
Please do not post our adoptable dogs on any other web site without our written permission.
No part of this web site, including photographs, may be reproduced without written permission