The Sanctuary for Senior Dogs |
home


Please Adopt Us!

The dogs featured on this page are available for adoption from The Sanctuary for Senior Dogs. All have been altered, provided with necessary medical care, and lived in a foster home prior to adoption. Our dogs are indoor dogs, looking for a home in which they will be indoor, valued family members.

Please do not post our adoptable dogs without our written permission. The Sanctuary for Senior Dogs does not euthanize our dogs for space. A senior dog in our program has a place for life.

Click below to download an adoption/foster application. You must have Adobe Reader to open and print this file. Adobe Reader is available as a free download at
www.adobe.com
. Dogs featured on this page are not in need of foster caregivers unless specified.

Not ready to adopt? Please consider fostering. You will save the life of an abandoned senior dog. To foster or adopt, click on the application link below.
Come meet your new best friend on April 26, 2015, from 2-4 PM at our Adoption Sunday! And check out our senior dog on WKYC (TV 3 Cleveland) on Adoption Sunday morning about 9:20. Can't make Adoption Sunday? Call to schedule an appointment.
New to the Sanctuary
These dogs have arrived recently and will be updated periodically and moved to the adoption section when their vet visits are complete and they are available. Scroll down for our adoptable dogs.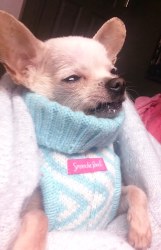 Chica, a tiny 3.6 pound sweetheart of a senior Chihuahua with a multitude of medical problems, came to the Sanctuary in mid-April 2015 from Cleveland Animal Control. She is still very ill with the worst case of dental disease we have seen in quite some time and leg pain, possibly from an old untreated injury. She is being aggressively treated with antibiotics and pain medicine. We will know more when she goes back for her follow-up visit at the end of the month.
vvv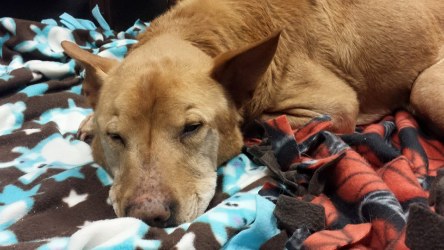 Lucas, a 10-year-old Shar-Pei/Shepherd mix, arrived at the Sanctuary in April of 2015 very emaciated and ill. He has come a long way in two weeks, but he has quite a long way to go to recovery. He needs to gain about 25 pounds to reach a normal weight. When he has gained some of the weight, he will have two tumors removed and will then be reevaluated for adoption. Lucas is a loving, friendly fellow found wandering along the Shoreway in Cleveland by a good Samaritan and taken to Cleveland Animal Control. His good Samaritan has been following Lucas' progress with relief.
vvv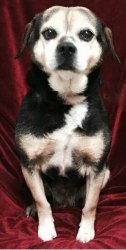 Ginny (formerly known as Ruthie at the pound) came to us on Easter in 2015 from the Jackson County Dog Pound where she has been picked up as a stray. A cute little 7-year-old Puggle, Ginny sadly has a long way to go to health and adoptability. She is in a false (thankfully!!) pregnancy and heartworm positive. Her heartworm treatment plan includes three months of preparation before the actual two-month heartworm treatment begins. When all of that is safely behind her, she will be spayed and ready for adoption.
vvv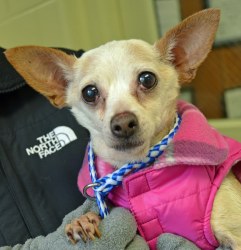 Ruth, a senior Chihuahua from Lucas County, came to the Sanctuary in March of 2015. She is a small, gentle dog and will be available for adoption following completion of her heartworm treatment and surgery for cherry eye. She prefers a home with as the only dog or with just one or two other friendly, low-key dogs.
Update: Ruth has successfully completed her heartworm treatment and will have her cherry eye surgery soon. When it is complete, she will be available for adoption. If you are interested, in Ruth, you can apply for her now.
vvv
Bernard, 11-year-old Pomeranian, was rescued from a hoarder/cruelty case by the Portage Animal Protective League. He came to the Sanctuary in February along with Ivy (see Forever Foster page for details on Ivy), who is being evaluated to serve as a therapy dog. Bernie, however, is very shy and withdrawn. He is working with a trainer to determine when (or if) he will be placed for adoption. Bernie seems to be much more traumatized by his experiences before he came to us.
vvv
All of our senior dogs require medical treatment, sometimes extensive. If you would like to help us with the high cost of rescuing senior dogs, please consider making a donation to support our work. You can mail your donation to PO Box 609054, Cleveland, Ohio 44109, or you can click the link below to donate through PayPal. All donations are tax deductible and will be acknowledged. Thank you for caring about abandoned old dogs. Old Dogs, Great Friends!
PLEASE ADOPT US!
Arthur (AKA Artie), a 10- to 12-year-old Bernese Mountain Dog mix, came to the Sanctuary from Summit County Animal Control in the midst of a wicked snowstorm in February of 2015 thanks to the dedication of their volunteers. A sweetheart of a dog, friendly to others, and a real joy to be around, Artie recently had a much-needed dental and a tumor removed. He has recovered and is available for adoption in NE Ohio. He would do best in an adult home with few or no stairs since he is slow of paw and a little arthritic. But He enjoys short walks and lots of cuddle time.
He is one of the friendliest, laziest, most loveable dogs we've had the pleasure of knowing. If you are interested in learning more about Artie, please
contact the Sanctuary
.
vvv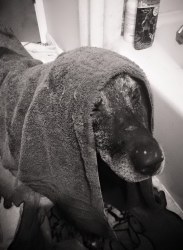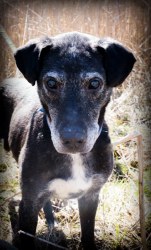 Murdock, a 10-year-old blind Lab from a hoarding case in Pike County, came to us in January of 2015 after living in an outside pen and being confiscated by the warden. Knowing his background, we assumed he would be timid, shut down, and poorly socialized. Boy, were we wrong! Murdock is loving, outgoing, and inquisitive. Everyone he meets is his friend: cats, dogs, people. His blindness does not slow him down at all as the occasional head thunks you hear when he runs into a barrier at full tilt make clear. He even enjoys his warm towel after a bath!
Murdock is healthy and happy and looking for his very own home where he can share his irrepressible joy with the world. For more information on Murdock, please
contact the Sanctuary
.
vvv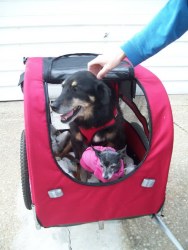 Stan Lee, a 12- to 14-year-old Shepherd/Hound/Doberman mix was confiscated by Cleveland Animal Control when the temperatures dropped below zero in January of 2015. Stan Lee had been confined outdoors his entire life with little socialization. A compassionate neighbor fed him and interacted with him when she could and then called animal control to report him. Regardless of his past, he is friendly, inquisitive, and even a little goofy sometimes. He showered our vet and volunteers with kisses on his very first day out of animal control.
He gets along well with friendly dogs and cats after a controlled and careful introduction. His health has stabilized, and he is now ready for his very own home. Stan Lee has some arthritis, so he enjoys short, easy walks and would do best in an adult home with few or no stairs. Since the weather is warmer, he enjoys riding in a cart behind his foster caregiver's bicycle with his best friend Buttercup the Chihuahua.
vvv
Whisper, a 10- to 12-year-old Shepherd mix, came to us early this year when her person passed away and she was found along with a cat in the home. She went to animal control where her chances were not looking good. She had chronically untreated dry eye, which will require lifelong treatment, and she is quite hard of hearing and a little arthritic. But through all of her troubles, she is an easy-going, sweet-natured dog who gets along well with the other dogs in her foster home and even with the cats.
vvv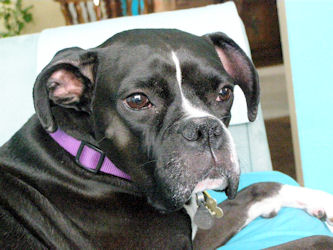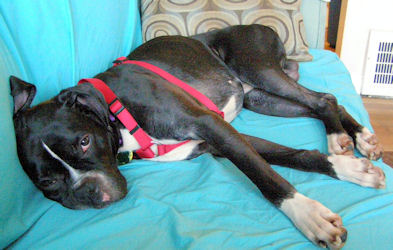 Edison
, 7-year-old Boxer mix, came to the Sanctuary from an area shelter when he was found running the streets of a Cleveland suburb. Edison was adopted by a Sanctuary board member and her mother. Sadly, both recently passed away from cancer leaving Edison with no choice but to return to a Sanctuary foster home. Friendly and easy-going with people and friendly dogs, Edison will make an excellent companion for a person or family looking for a younger senior. Edison shares his foster home with several dogs and gets along well with them. He loves having a playmate, and he loves to cuddle and sit next to you on the couch.
Edison is eager for his very own home again. For more information on Edison, please
contact the Sanctuary
.
vvv
Libby, a sleek Shepherd/Lab mix with hauntingly beautiful amber eyes, came to us from a southern Ohio shelter where she had spent nearly two months (pictured right). Still a bit underweight, she currently weighs 56 pounds. Libby is spirited and gets along well with dogs that do not challenge her. A young senior, our vet has estimated her age at about 7 years old. She has "cauliflower ear" from a past hematoma, and she is currently being treated for an ear infection. Libby is not a good fit in her current foster home, so we are looking for a more appropriate foster caregiver for Libby. She has two ACL injuries, one that apparently healed on its own and another that seems to be more recent. Our vet is keeping an eye on it, and if it does not heal, he will do an ACL surgery on her leg.
vvv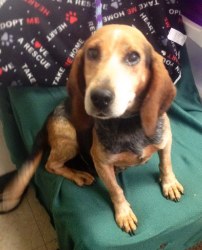 Lenore, a sweet former hunting Beagle, came to us from the same southern Ohio shelter as Spike (see adopted 2014). At about 8 years old, Lenore has clearly been an outside dog. She came in with many intestinal parasites and lung worm, something new to us. Her parasites have been aggressively treated, and she has recovered. She was recently spayed and had a malignant mammary tumor removed. Our vet is optimistic about her chances for a full recovery, and her first follow-up chest x-ray was clear with no sign of metastasis; she will have one more x-ray in three months just to be sure. Lenore also battled a stubborn UTI and continues to improve in her house training.
Lenore is a sweet dog who will do well with a person who does not work long hours and can spend lots of quality time with her. She is available for adoption or for a foster-to-adopt pending resolution of her health issues. If you are in NE Ohio and want to learn more about Lenore, please
contact the Sanctuary
.
vvv
Theo, a 10-year-old gorgeous mixed breed fellow, was the companion of Charlotte (see adopted dogs 2013) in a very neglectful home. Deprived of medical treatment for his skin issues, Theo actually got much worse after leaving a rural southern Ohio shelter with his adopter. Because of severe neglect, he and Charlotte were removed from their adoptive home. A thorough medical exam revealed that he suffered from low thyroid, a condition easily treatable with inexpensive daily medication. In addition, Theo was also heartworm positive and has completed his treatment and regained his health. The before and after pictures speak for themselves.
Theo is now available for adoption and looking for that special home in NE Ohio to call his own. He would do best in an adult home as an only dog or perhaps with one cat. For more information on making Theo a part of your family, please
contact the Sanctuary
.
vvv
In addition to the dogs offered for adoption, the Sanctuary cares for
Forever Foster
dogs in permanent Sanctuary homes. They are not available for adoption, but you can sponsor one of them if you would like to help us with the ongoing costs of our hospice and permanent foster dogs. Click here to go to the
Forever Fosters
page. If you are interested in fostering an adoptable dog or a permanent foster dog, please
contact the Sanctuary
. Your work will save the life of an abandoned old dog.
Click here to donate to the Sanctuary through the secure PayPal site.
To see more dogs available for adoption,
click here

© 2011-2015
Please do not post our adoptable dogs on any other web site without our written permission.
No part of this web site, including photographs, may be reproduced without written permission