The Sanctuary for Senior Dogs |
home


Please Adopt Us!

The dogs featured on this page are available for adoption from The Sanctuary for Senior Dogs. All have been altered, provided with necessary medical care, and lived in a foster home prior to adoption. Our dogs are indoor dogs, looking for a home in which they will be indoor, valued family members. Please see the Adoption Policies and Procedures to the left of this page.

Please do not post our adoptable dogs without our written permission. The Sanctuary for Senior Dogs does not euthanize our dogs for space. A senior dog in our program has a place for life.

Dogs featured on this page are not generally in need of foster caregivers unless specified. But we welcome your application to foster a deserving senior dog. Without our fosters, we cannot save abandoned old dogs.

So please consider fostering or adopting a senior dog. You will not only save a life but you will also gain a devoted friend.
To access the foster or adopt application, click on the link below.
Come meet your new best friend on March 26, 2017, from 2-4 PM
Can't make Adoption Sunday? Call to schedule an appointment.
New to the Sanctuary
These dogs have arrived recently or are still under evaluation and will be updated periodically. They will be moved to the appropriate section (adoption or forever foster) when their vet visits and behavioral evaluations are complete. For more information on any of our new dogs, please
contact the Sanctuary.
Professor Ralphie is not yet ready for adoption. He has shown some behavioral issues as he adjusts to life in a loving home. A force-free trainer is working closely with him. Stay tuned for updates on Professor Ralphie.
Update: Professor Ralphie has been with us for nearly a year now. He has improved somewhat in his behavior to others, but he still has a long way to go. He spent a couple of weeks in a local boarding facility when his foster caregivers had a death in the family, and the staff reported that he was friendly and played well in some carefully selected play groups. That is progress, and we hope Ralphie will continue to make strides in adapting to his new life. We will continue to update on his progress.

All of our senior dogs require medical treatment, sometimes extensive. If you would like to help us with the high cost of rescuing senior dogs, please consider making a donation to support our work. You can mail your donation to PO Box 609054, Cleveland, Ohio 44109, or you can click the link below to donate through PayPal. All donations are tax deductible and will be acknowledged. Thank you for caring about abandoned old dogs. Old Dogs, Great Friends!
PLEASE ADOPT US!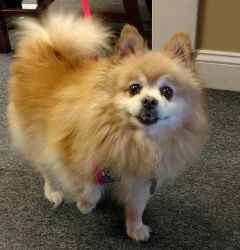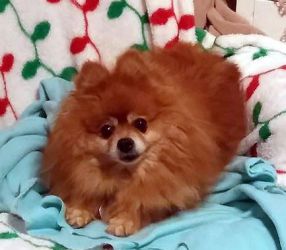 Polie (left) and Twisty (right), 12-year-old Pomeranian siblings, came to the Sanctuary with Boopsie (Forever Foster) and Sydney (adopted), when they were confiscated from the home of a woman who could no longer care for them. They had been living in deplorable conditions without veterinary care for many years. Each has some health issues that have been addressed, primarily urinary tract infections and bad teeth. They will be spayed soon and will then be ready for their very own home. Polie and Twisty were placed in separate foster homes, but Polie developed severe anxiety without her sister. Polie's anxiety resolved when she was moved to the same foster home as Twisty. As a result of their strong bond, they will need to be adopted together.

Alvin, an 9-year-old Chihuahua mix, came to us from a shelter in NW Ohio when no one came for him. He had developed a bad case of kennel cough and was treated for intestinal parasites and giardia. he has some neurological issues that affect his gait, but he is otherwise healthy and happy. He is looking for a loving home in NE Ohio.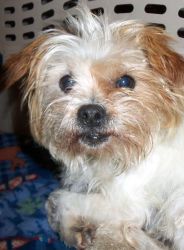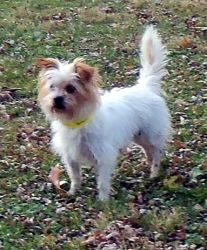 Cassidy, a 7- to 8-year-old Terrier is a bundle of love and energy. She was treated for a very serious urinary tract infection, which is now gone. She has also been spayed and had a dental in which she lost five teeth. But she is now healthy and happy and ready for her very own home.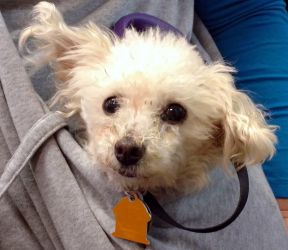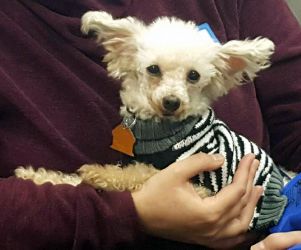 Blanche, a 12-year-old toy Poodle, is a sweet bundle of love. She has been successfully spayed and has had some mammary tumors removed. She is a real love and absolutely adorable, but she prefers to be the only dog in the home or top share her home with a smaller more submissive dog. Her loves to be carried and to sit in your lap. The person lucky enough to adopt her will have a devoted friend.

Agnes, a 10-year-old Cattle Dog mix, arrived on November 23 from Mahoning County where she was found as a stray in bad shape. Agnes has some mobility issues stemming from a past injury, possibly being hit by a car, that was never treated properly; she also has some arthritis and has had a badly needed dental. She settled into her Sanctuary foster home in record time, sharing the couch with the two other dogs that live there. Agnes is friendly to people and dogs and is just an all-around sweet dog.

Roy, a handsome 10+-year-old German Shepherd mix, arrived at the Sanctuary from Cleveland Animal Care & Control where he was very shut down and withdrawn, but the staff and volunteers there worked with him to help him come out of his shell. He is making great progress learning to relax and to enjoy being safe in a loving foster home. Roy has a few health problems; in addition to severe hair loss, he was very thin and diagnosed as hypothyroid. He is also anemic and will need to have some tumors removed when he is strong enough.
Update: Roy continues to struggle with health issues and some anxiety, but our vet is trying to stabilize him with medication changes. The good news is that his spirits are much improved. We hope that means that Roy is on the road to recovery.
Holiday photo on the right courtesy of Portraits by Martha.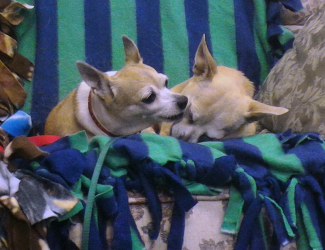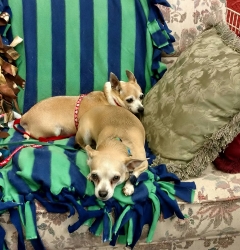 Mister and Chica Louise, a bonded pair of 12-year-old Chihuahuas, have been together their entire lives, and they need to stay together now. After losing the only home they have ever know, they came to the Sanctuary a bit shy and frightened. But it didn't take long for them to realize that they were safe and still had each other. Typical Chihuahuas, Mister and Chica Louise warm up to people fairly quickly once they realize they can trust them. They have both had dentals and complete health checks, and they are ready for their forever home where they will be cherished for life.

Shadow (FKA Bizzy), a sweet Dachshund/Beagle mix, came to us in January from an Ohio dog pound where she found herself when her family was evicted and she was left to fend for herself on the cold streets. A kind neighbor found her and took her to the pound but not before she learned some of Shadow's background, including her real name that she responds to with enthusiasm. Shadow is about 7-8 years old and has had at least 5 litters of pups.
When she arrived, she had a nasty yeast infection of the skin due to long untreated allergies. Once it had cleared, she was spayed and had some benign lumps and bumps removed. Shadow is being considered for our therapy dog program did well in her first two training courses. She also excelled on a trial visit with a group of seniors recently.
After a long and carefully orchestrated introduction, she has learned to live peacefully with the other dogs in her foster home, but she absolutely despises cats, screaming long and loudly whenever she sees one. She is exceptionally friendly with all people, energetic, and playful. If she does not become a therapy dog working for the Sanctuary, she will be available for adoption. Either way, Shadow is a wonderful, comical, and devoted companion.
The photo on the left courtesy of Portraits by Martha.

In addition to the dogs offered for adoption, the Sanctuary cares for
Forever Foster
dogs in permanent Sanctuary homes. They are not available for adoption, but you can sponsor one of them if you would like to help us with the ongoing costs of our hospice and permanent foster dogs. Click here to go to the
Forever Fosters
page. If you are interested in fostering an adoptable dog or a permanent foster dog, please
contact the Sanctuary
. Your work will save the life of an abandoned old dog.
Click here to donate to the Sanctuary through the secure PayPal site.
To see more dogs available for adoption,
click here

© 2017
Please do not post our adoptable dogs on any other web site without our written permission.
No part of this web site, including photographs, may be reproduced without written permission