The Sanctuary for Senior Dogs |
home


Companions: Seniors for Seniors & Therapy Dogs

The Sanctuary for Senior Dogs is proud to offer Companions, a program designed to bring senior dogs and senior people together. Medical and psychological research documents the health and emotional benefits of companion animals, especially to senior people.
As an important part of this program, senior dogs are available to qualified adopters 60 years of age and older for $60, rather than our usual adoption fee of $125.
Companions also sponsors the use of senior dogs in the community as therapy dogs, working with people in need of the companionship only an old dog can give. Our work ranges from visiting people in nursing homes, hospitals, and assisted living communities to helping children in reading programs. The jobs an old dog can do are nearly endless.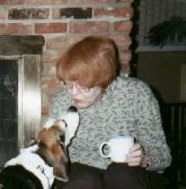 Henry & Mary Lou
The Sanctuary's first adoption & the first Companions adoption, 2001
Another important part of the Companions program is the vital work our therapy dogs do in the community.

OUR THERAPY DOG IN TRAINING: Trudy
Trudy, a beautiful 10-year-old Boxer/Beagle mix with a heart-shaped gray muzzle, is in training to become the Sanctuary's fourth therapy dog. She will serve the east side of greater Cleveland when she has completed her training. She recently had her first evaluation by a professional trainer, and it went quite well. We are looking forward to great things from Trudy. Stay tuned for her progress as she moves through the program.

OUR NEWEST THERAPY DOGS: Delilah and FayFay
Delilah (left), an 11-year-old deaf Collie mix, and FayFay (right), an 11-year-old Black Lab mix, have both successfully completed their first training class at Fortunate Fido. They learned quickly and enjoyed the training (especially the treats and praise that went along with it). The next step with be their Canine Good Citizen test; then on to therapy dog testing with Bright and Beautiful Therapy Dogs through Gold Star Dog Training evaluators. We are proud of our girls and have every reason to believe that they will both be working therapy dogs before the end of the year. Stay tuned for reports of their progress.
Update: Both Delilah and FayFay passed their Canine Good Citizen (CGC) test and their therapy dog test through Bright and Beautiful Therapy dogs, Inc. in November 2013. We are so proud of our newest Sanctuary therapy dogs.
Special thanks to
The Grey Muzzle Organization
for their generous grant to support our therapy program. We are looking to bring in a fourth therapy dog in 2014 to help us reach all parts of NE Ohio with the love and joy that an old therapy dog brings.

OUR THERAPY DOG: J.J.
Congratulations to J.J.
, a 9-year-old Husky mix, found wandering by a good Samaritan and taken to an area shelter where staff quickly discovered that J.J. is entirely blind. She passed her therapy dog test with her handler Jolene and now serves as the Sanctuary's therapy dog. Special thanks to the great folks at
Gold Star Dog Training
in Medina, Ohio, specializing in handicapped pets, who worked with J.J. through her training. And special thanks also to
The Grey Muzzle Organization
for awarding the Sanctuary a generous grant to support our therapy program and J.J.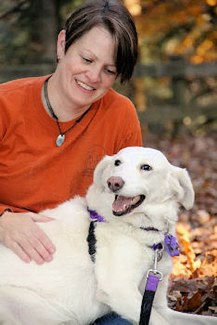 IN MEMORY OF OUR PAST THERAPY DOGS

To light a candle for any of these dogs or for any of your friends who have crossed the Bridge, please visit our
candle room.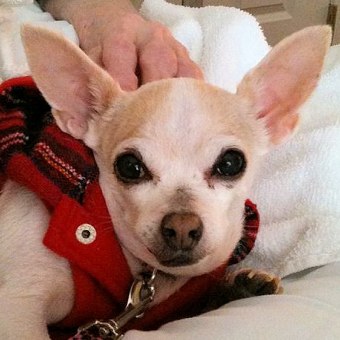 Francesca Solara, 1998-2012
In loving memory of Francesca, who overcame illness
and abandonment to bring joy to countless people.
Registered with Bright and Beautiful Therapy Dogs, March 2011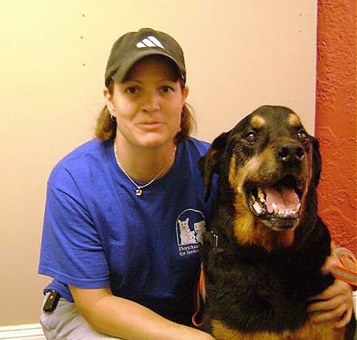 Cato, 2000-2010
In loving memory of Cato, a gentle giant who came to us after a life of neglect.
His unwavering good nature won him many friends. Even those who were
afraid of dogs were charmed by Cato's easy-going ways.
Registered with the Delta Society, July 2009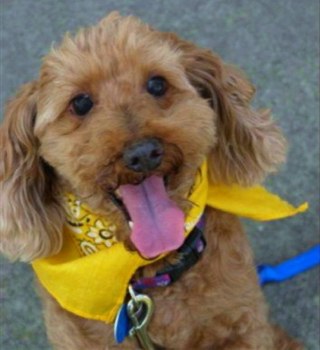 Vinnie, 1995-2009
In loving memory of Vinnie whose loving disposition and
strength in the face of adversity were an inspiration to all who met him.
Registered with the Delta Society, September 2008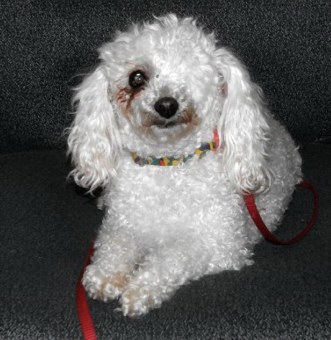 Annie Brown, 1998-2009
In loving memory of our Annie Brown whose loving nature and comical antics
were a source of pleasure to all who met her. Her therapy service was cut tragically short.
Registered with the Delta Society, December 2008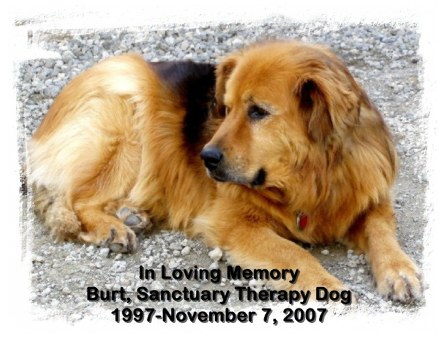 In loving memory of Burt, 3rd Sanctuary therapy dog,
a big, furry love of a dog.
Registered with the Delta Society, March 2005
Registration renewed April 2007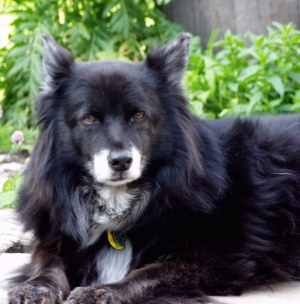 Gretchen, 1994-June 2, 2004
In loving memory of Gretchen, 2nd Sanctuary therapy dog,
known for her sense of humor and joy in living.
Certified with Therapy Dogs International, May 2003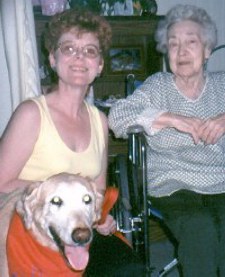 Georgia, 1989-June 25, 2003
In loving memory of Georgia, 1st Sanctuary therapy dog,
a devoted friend, companion, and inspiration to us all.
Certified with Therapy Dogs International, May 2001
Copyright 2011-2014
No part of this web site, including photographs, may be reproduced without written permission