The Sanctuary for Senior Dogs |
home


Adopted 2015 & 2016

2016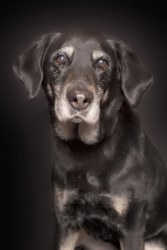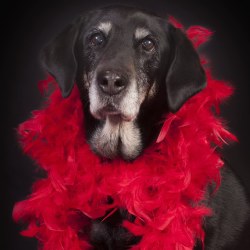 Macie, a senior Lab mix from Morrow County, arrived November 27. She is a sweet old gal who had multiple mammary tumors that have now been removed and she has been spayed. Happily, her mammary tumors were all benign, and she has been given a clean bill of health. Macie is an easy-going dog, gentle and affectionate. She gets along well with dogs, cats, and people. She is a true gem, a loving and loyal old gal just waiting for a home of her very own.
Update: Macie has been adopted by a long term friend of the Sanctuary. She has joined another senior dog who accepted her right away. Macie was recently seen with her head in the refrigerator, exploring its contents. Enjoy the good life, Macie.
Photos of Macie courtesy of Portraits by Martha.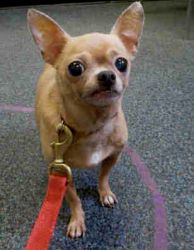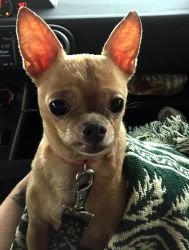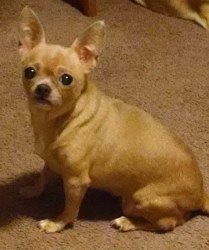 Bunny (known as Tootsie in the shelter) is an older Chihuahua who found herself alone in a NW Ohio animal shelter after a rescue took the dog she was surrendered with but did not have space for Bunny. She just arrived at the Sanctuary on November 5 and will have her first vet visit next week. We will know more about her age and her health then. Her shelter picture is on the left; the middle picture was taken on her freedom ride to Cleveland, and the picture on the right was taken in her foster home. Bunny is a little frightened, but she is starting to warm up and relax a little. She is sharing her foster home with Milo, another little Chihuahua with the Sanctuary (see below in adoptable dogs).
Update: Bunny has developed a stubborn case of kennel cough and is being treated aggressively so that it does not become pneumonia. Please keep her in your thoughts.
Update:
Bunny has recovered from kennel cough, and her true personality is emerging. She is an affectionate dog with a sunny disposition despite her often serious look. She is now ready for her very own home. For more information on Bunny,
please contact the Sanctuary
.
Update: Bunny was adopted and has taken her place with two other friendly dogs and a woman who loves her and cares for her. Congraatulations, Bunny!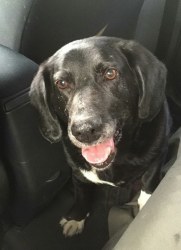 Barney, an handsome 8-year-old Lab/Bassett Hound mix, came to us from a central Ohio County where he had been taken after being removed from the home of a hoarder. Another rescue took all of the small dogs but left barney becaue he was too larger for them. He came to the Sanctuary just long enough to be neutered and put on a diet to lose some much needed weight. He was quickly adopted by a retired gentleman who had adopted two unsocialized, bobded seniors from the Sanctuary many years ago. At last report, Barney, who had been a bit anxious in his foster home, had settle in nicely and was getting more comfortable every day.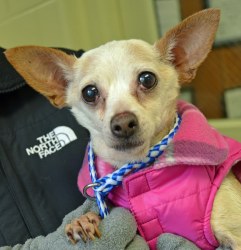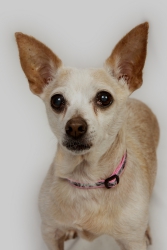 Ruth, a senior Chihuahua from Lucas County, came to the Sanctuary in March of 2015. She is a small, gentle dog and will be available for adoption following completion of her heartworm treatment and surgery for cherry eye. She prefers a home as the only dog or with just one or two other friendly, low-key dogs.
Update:
Ruth has successfully completed her heartworm treatment and has had her surgery to correct her cherry eyes; she is now available for adoption. If you are interested, in Ruth, please
contact the Sanctuary
.
Update: Ruth was adopted by a wonderful family who has adopted from the sanctuary in the past. She joins Charlotte (former SSD dog) and Whiz along with her human family. Congratulations, Ruth!
Photo on the right courtesy of Portraits by Martha.
2015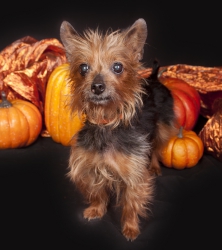 Autumn
is a tiny, 10-year-old Yorkie from Cleveland Animal Control. She came to us with a fractured leg that has since healed. A loving dog that bonds quickly with those who love her, she has been spayed and had a much-needed dental and is now just waiting for her very own home. For more information on Autumn, please
contact the Sanctuary
.
Update: Autumn has been adopted by her foster caregiver where she shares her home with two cats, both of which are larger than she is. She is settling in nicely, and it's good to know that she will not have to move and adjust to a new home, espcially since she can be a bit anxious.
Gorgeous fall portrait of Autumn courtesy of Portraits by Martha.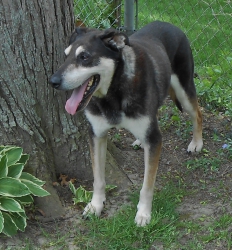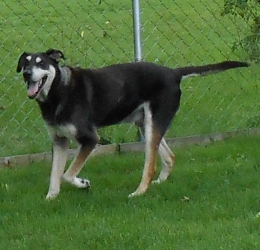 Arlo, a 10-year-old Doberman/hound mix, is a lively fellow, full of good cheer. He came to us from Cleveland Animal Care & Control with two large tumors that were removed and were, thankfully, benign. Aside from some skin issues caused by allergies, Arlo is a healthy dog who enjoys the love and devotion of his people. He would do best in an adult home with people who will take him for frequent short walks and shower him with attention and affection. He loves the fenced yard in his foster home, but it is not a necessity. Arlo is loyal and devoted to the people who love him.
Update: After being moved from one foster home to another for not liking cats, Arlo has finally found a home of his own. We are not sure why it took so long for him to be adopted, but he is now home.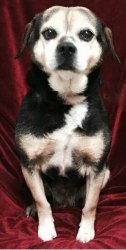 Ginny (formerly known as Ruthie at the pound) came to us on Easter in 2015 from the Jackson County Dog Pound where she had been picked up as a stray. A cute little 7-year-old Puggle, Ginny sadly has a long way to go to health and adoptability. She went through a false (thankfully!!) pregnancy and was heartworm positive. She has just completed her heartworm treatment. The next step in her journey will be to be spayed, and then she will be ready for adoption. But her foster family has fallen in love and will adopt her as soon as she is ready. So Ginny is spoken for.
Update: Ginny has been successfully treated for heartworm and spayed. She has now been officially adopted by her foster family. It was love at first sight for Ginny and her family.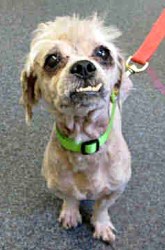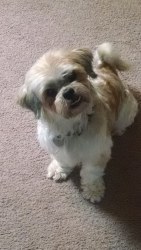 Sherlock, 10-year-old Lhasa, from a NW Ohio shelter, being treated for a skin infection. He has been neutered and is ready for his very own home.
Update: Sherlock looks like a new dog, and he has been adopted by a couple who have adopted from the Sanctuary previously. We wish Sherlock a long and happy life in his new home.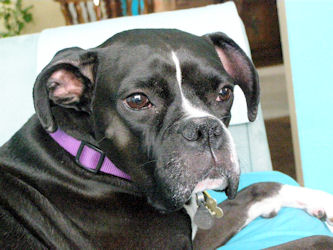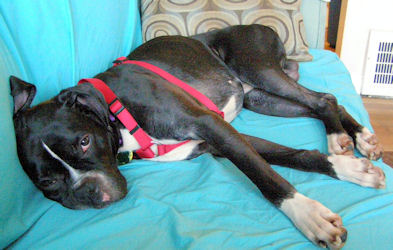 Edison, 7-year-old Boxer mix, came to the Sanctuary from an area shelter when he was found running the streets of a Cleveland suburb. Edison was adopted by a Sanctuary board member and her mother. Sadly, both recently passed away from cancer leaving Edison with no choice but to return to a Sanctuary foster home. Friendly and easy-going with people and friendly dogs, Edison will make an excellent companion for a person or family looking for a younger senior. Edison shares his foster home with several dogs and gets along well with them. He loves having a playmate, and he loves to cuddle and sit next to you on the couch.
Update: Edison has been adopted by his foster caregiver! After conversation with our veterinarian, we decided that yet another move in Edison's life would cause him undue stress and anxiety, so his foster family welcomed Edison into their home permanently.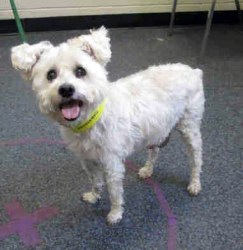 McDuff, 10-year-old West Highland Terrier/Bichon Frise mix from a NW Ohio shelter, tested negative for Cushings disease and will need two tumors removed when he is healthy enough.
Update: McDuff was adopted as soon as his surgery was completed. His tumors were benign, and he is settling into his new home where he is already surrounded by love.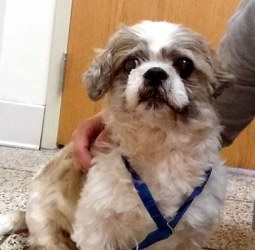 Moses, 8- to 10-year-old ShihTzu, from Cleveland Animal Care and Control. Lovable and ready for adoption.
Update: Moses was adopted by a wonderful woman looking for a best friend, and she found it in Moses. He is king of his new castle and loving every minute of it.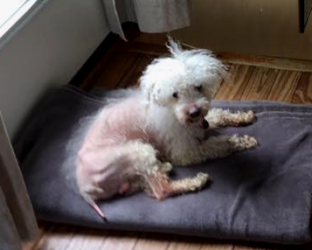 Jimbo,an 8-year-old Poodle, from Cleveland Animal Care and Control, is a comical and friendly dog. He loves to dance on his back legs and smile at you. He gets along well with the dogs and cats in his foster home and should be able to settle into his very own home with little trouble. Jimbo has been recently neutered and is being evaluated for hair loss and skin issues. He has also had a much-needed dental.
Jimbo, whose new name for his new life is Diego, has been adopted by an employee of our wonderful veterinarian clinic. He joins three other small dogs and a cat in his new home.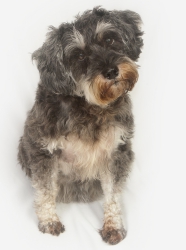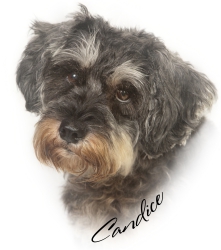 Candice, a beautiful and gentle 8-year-old Schnauzer, came to us from an urban pound where she was surrendered when her elderly owners could no longer care for her. She was so depressed and shut down that she was overlooked time and again as she huddled in the back of her kennel. She came to us to have a better chance at adoption, and after some necessary medical care, she was adopted immediately by a previous adopter and friend of the Sanctuary. Candice will share her new life with several cats and a friendly dog named Ty. We know she will enjoy a wonderful life in her new home. Photos courtesy of Portraits by Martha.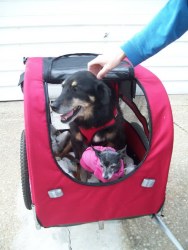 Stan Lee, a 12- to 14-year-old Shepherd/Hound/Doberman mix was confiscated by Cleveland Animal Control when the temperatures dropped below zero in January of 2015. Stan Lee had been confined outdoors his entire life with little socialization. A compassionate neighbor fed him and interacted with him when she could and then called animal control to report him. Regardless of his past, he is friendly, inquisitive, and even a little goofy sometimes. He showered our vet and volunteers with kisses on his very first day out of animal control.
He gets along well with friendly dogs and cats after a controlled and careful introduction. His health has stabilized, and he is now ready for his very own home. Stan Lee has some arthritis, so he enjoys short, easy walks and would do best in an adult home with few or no stairs. Since the weather is warmer, he enjoys riding in a cart behind his foster caregiver's bicycle with his best friend Buttercup the Chihuahua.
Update: Stan Lee has been adopted by his foster family. His best friend Buttercup is very happy about that! And we are glad that Stan Lee will stay with his family for life.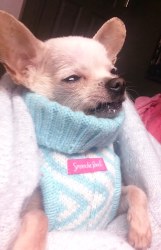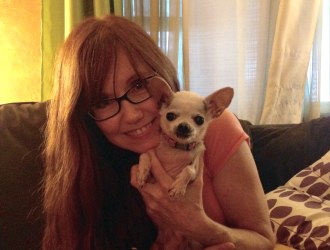 Chica, a tiny 3.6 pound sweetheart of a senior Chihuahua with a multitude of medical problems, came to the Sanctuary in mid-April 2015 from Cleveland Animal Control. She was very ill and had the worst case of dental disease we have seen in quite some time along with leg pain, possibly from an old untreated injury. She was being aggressively treated with antibiotics and pain medicine. She healed nicely, had a much-needed dental, and then was adopted almost immediately by a woman who loves her unconditionally and has named her Coraline.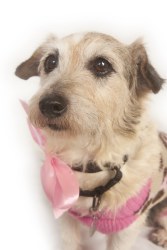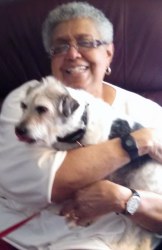 Juni is a sweet, spunky, happy gal. She came to us from a rural southern Ohio shelter where she had been found wandering a major highway. Her microchip traced back to Petland and was never updated, so we have no idea what her life was like for the past 10 years, only that she was a pet store purchase. Weighing in at 13 pounds, Juni loves the companionship of her foster family, and she gets along well with the other dogs there. She has been okay with the cat, but she seems just a little too interested. If she shared her home with a cat, she would need to be closely monitored to be sure they get along. Juni is spayed and healthy except for a yeast infection that is responding to aggressive treatment. Juni is a loving, loyal dog in need of a stable, caring home. If you can open your home and your heart to little Juni, please contact the Sanctuary.
Update
: Juni was adopted by a wonderful couple and now shares her life with two other dog friends who have quickly become her friends.
Photo courtesy of
Portraits by Martha
.
Update: Juni did not appreciate the attentions of one of the dogs in her adoptive home, so she returned to the Sanctuary and was quickly adopted by Betty, a second-time adopter who was looking for the perfect little dog. She found it in Juni. The two have become fast friends. They are shown on the right on the day that Juni arrived in her new home. They are the perfect match! Photo on the left courtesy of Portraits by Martha.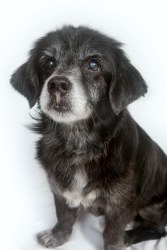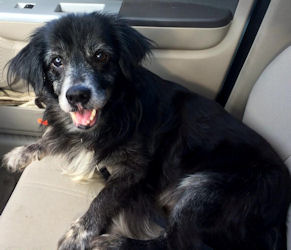 Alfred
, a 7- to 10-year-old Spaniel mix, came to us in September of 2014 from Cleveland Animal Control when no one came to claim him. He is shown on the left during his stay at animal control and on the right a much happier fellow enjoying a car ride. He is a small dog, currently only 20 pounds but looking to gain another 5 pounds for good measure. Alfred has been neutered and had his medical needs met. He is a friendly guy who gets along well with everyone he meets, including friendly dogs and cats. He is just waiting for his perfect home so he can relax and enjoy the rest of his life. He can be a bit vocal in new surroundings or when you come home after being away, but he settles down quickly and is happy to share your company. If you would like more information about Alfred, please
contact the Sanctuary
. You will be glad that you did.
Update: Alfred was adopted by a woman who will care for him and give him unconditional love for life. He shares his home with two friendly old dogs who have become his best friends. Photo on the left courtesy of Portraits by Martha.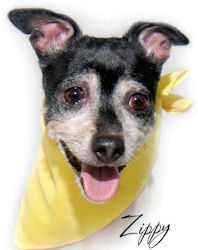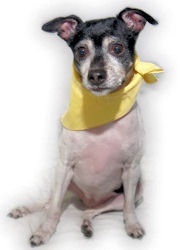 Zippy, a 9-year-old Rat Terrier, is a sweet-natured gal; healthy and happy. She loves to play and cuddle. She recently was successfully treated for a sinus condition that caused frequent and violent sneezing. Zippy is playful and thrives on attention. She gets along well with other dogs, especially if they will play with her.
If you are looking for the perfect companion, don't over look Zippy. She is looking for love and stability in her life.
Update: After being in her foster home for nearly two years, Zippy has found her very own home that she willingly shares with several other small dogs. She is getting the best of everything. Her forever home was definitely worth waiting for. Photos courtesy of Portraits by Martha.

Copyright 2016
No part of this web site, including photographs, may be reproduced without written permission