The Sanctuary for Senior Dogs |
home


Adopted 2015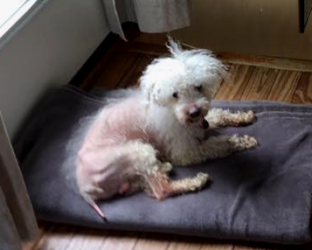 Jimbo,an 8-year-old Poodle, from Cleveland Animal Care and Control, is a comical and friendly dog. He loves to dance on his back legs and smile at you. He gets along well with the dogs and cats in his foster home and should be able to settle into his very own home with little trouble. Jimbo has been recently neutered and is being evaluated for hair loss and skin issues. He has also had a much-needed dental.
Jimbo, whose new name for his new life is Diego, has been adopted by an empoyee of our wonderful veterinarian clinic. He joins three other small dogs and a cat in his new home.
vvv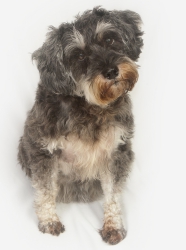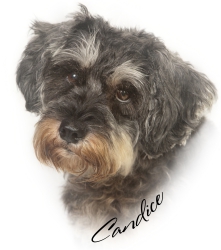 Candice, a beautiful and gentle 8-year-old Schnauzer, came to us from an urban pound where she was surrendered when her elderly owners could no longer care for her. She was so depressed and shut down that she was overlooked time and again as she huddled in the back of her kennel. She came to us to have a better chance at adoption, and after some necessary medical care, she was adopted immediately by a previous adopter and friend of the Sanctuary. Candice will share her new life with several cats and a friendly dog named Ty. We know she will enjoy a wonderful life in her new home. Photos courtesy of Portraits by Martha.
vvv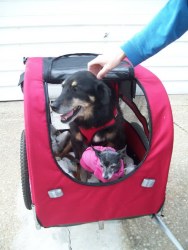 Stan Lee, a 12- to 14-year-old Shepherd/Hound/Doberman mix was confiscated by Cleveland Animal Control when the temperatures dropped below zero in January of 2015. Stan Lee had been confined outdoors his entire life with little socialization. A compassionate neighbor fed him and interacted with him when she could and then called animal control to report him. Regardless of his past, he is friendly, inquisitive, and even a little goofy sometimes. He showered our vet and volunteers with kisses on his very first day out of animal control.
He gets along well with friendly dogs and cats after a controlled and careful introduction. His health has stabilized, and he is now ready for his very own home. Stan Lee has some arthritis, so he enjoys short, easy walks and would do best in an adult home with few or no stairs. Since the weather is warmer, he enjoys riding in a cart behind his foster caregiver's bicycle with his best friend Buttercup the Chihuahua.
Update: Stan Lee has been adopted by his foster family. His best friend Buttercup is very happy about that! And we are glad that Stan Lee will stay with his family for life.
vvv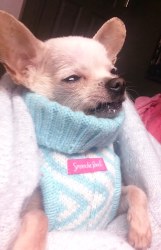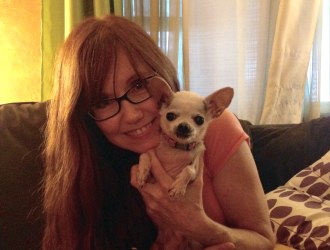 Chica, a tiny 3.6 pound sweetheart of a senior Chihuahua with a multitude of medical problems, came to the Sanctuary in mid-April 2015 from Cleveland Animal Control. She was very ill and had the worst case of dental disease we have seen in quite some time along with leg pain, possibly from an old untreated injury. She was being aggressively treated with antibiotics and pain medicine. She healed nicely, had a much-needed dental, and then was adopted almost immediately by a woman who loves her unconditionally and has named her Coraline.
vvv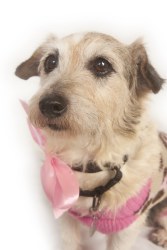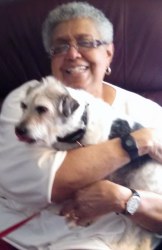 Juni is a sweet, spunky, happy gal. She came to us from a rural southern Ohio shelter where she had been found wandering a major highway. Her microchip traced back to Petland and was never updated, so we have no idea what her life was like for the past 10 years, only that she was a pet store purchase. Weighing in at 13 pounds, Juni loves the companionship of her foster family, and she gets along well with the other dogs there. She has been okay with the cat, but she seems just a little too interested. If she shared her home with a cat, she would need to be closely monitored to be sure they get along. Juni is spayed and healthy except for a yeast infection that is responding to aggressive treatment. Juni is a loving, loyal dog in need of a stable, caring home. If you can open your home and your heart to little Juni, please contact the Sanctuary.
Update
: Juni was adopted by a wonderful couple and now shares her life with two other dog friends who have quickly become her friends.
Photo courtesy of
Portraits by Martha
.
Update: Juni did not appreciate the attentions of one of the dogs in her adoptive home, so she returned to the Sanctuary and was quickly adopted by Betty, a second-time adopter who was looking for the perfect little dog. She found it in Juni. The two have become fast friends. They are shown on the right on the day that Juni arrived in her new home. They are the perfect match! Photo on the left courtesy of Portraits by Martha.
vvv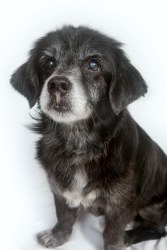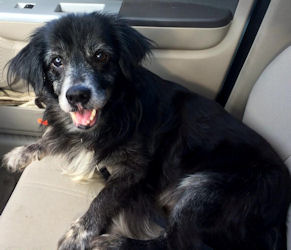 Alfred
, a 7- to 10-year-old Spaniel mix, came to us in September of 2014 from Cleveland Animal Control when no one came to claim him. He is shown on the left during his stay at animal control and on the right a much happier fellow enjoying a car ride. He is a small dog, currently only 20 pounds but looking to gain another 5 pounds for good measure. Alfred has been neutered and had his medical needs met. He is a friendly guy who gets along well with everyone he meets, including friendly dogs and cats. He is just waiting for his perfect home so he can relax and enjoy the rest of his life. He can be a bit vocal in new surroundings or when you come home after being away, but he settles down quickly and is happy to share your company. If you would like more information about Alfred, please
contact the Sanctuary
. You will be glad that you did.
Update: Alfred was adopted by a woman who will care for him and give him unconditional love for life. He shares his home with two friendly old dogs who have become his best friends. Photo on the left courtesy of Portraits by Martha.
vvv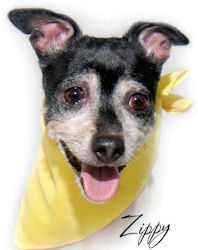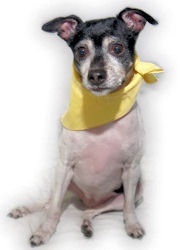 Zippy, a 9-year-old Rat Terrier, is a sweet-natured gal; healthy and happy. She loves to play and cuddle. She recently was successfully treated for a sinus condition that caused frequent and violent sneezing. Zippy is playful and thrives on attention. She gets along well with other dogs, especially if they will play with her.
If you are looking for the perfect companion, don't over look Zippy. She is looking for love and stability in her life.
Update: After being in her foster home for nearly two years, Zippy has found her very own home that she willingly shares with several other small dogs. She is getting the best of everything. Her forever home was definitely worth waiting for. Photos courtesy of Portraits by Martha.
vvv
Copyright 2011-2015
No part of this web site, including photographs, may be reproduced without written permission